Forgetting Curve by Herman Ebbinghaus
If I were to ask you what you had for breakfast today, your reply would be an instantaneous one. It isn't quite going to be the case if I ask what you had for dinner a month ago. We're creatures who keep forgetting things!
As a matter of fact, we forget 80% of what we learned in 30 days as shown in this diagram featuring the "Forgetting Curve" by Herman Ebbinghaus, a German Psychologist.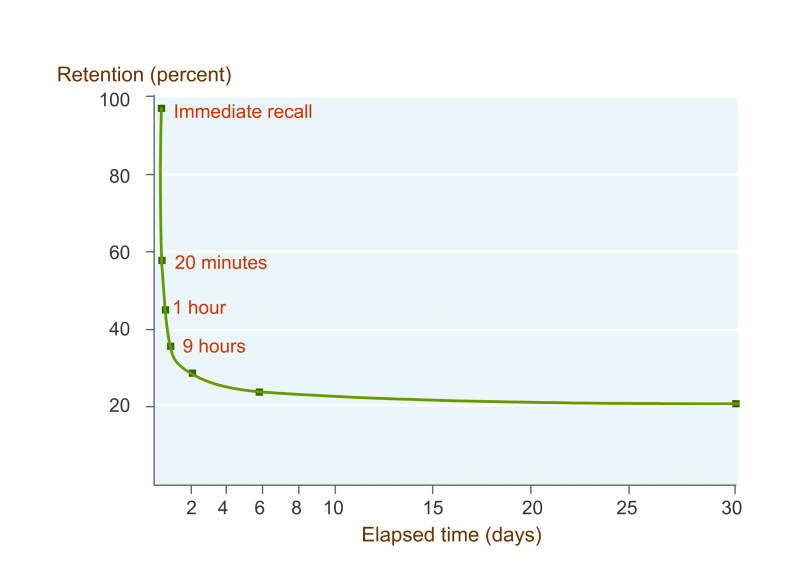 Formal learning, as you may be aware, takes place for a few days in a year. Now view this from the prism of the Forgetting Curve and you're bound to have second thoughts about your investments on using only formal training to make the kind of impact you'd like on your learner performance.
So What's The Way Forward?
A great way to address this challenge is to have a blend of both formal and informal training and offer a solution that treats "Learning as a continuum".
Here's what you can do:
Ascertain the portions from your formal training program that you want your learners to remember, check, refer or apply, and use Performance Support Tools (PSTs) to reinforce those messages.
Design your PST nuggets to be stand-alone assets aligned to specific learning outcomes.
Weave your training nuggets into a "learning path" and keep the knowledge thread relevant and in appropriate order over the course of your identified training period.
Combine the power of reinforcement with new assets for higher recall, retention, and application of the knowledge gained on-the-job.
The result? You'll be able to see a dip in your formal training costs and an increase in learner productivity and performance.